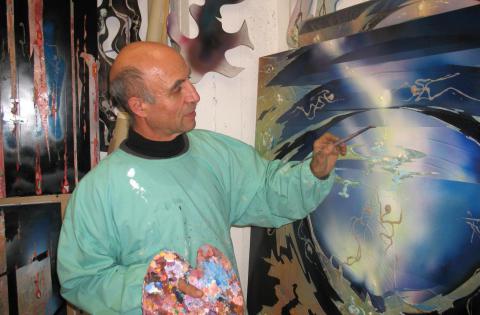 Giancarlo Flati was born in Aquila, in the Italian region of Abruzzo (central Italy). His artistic production began in 1964 and has continued ever since with growing dedication and commitment. Between 1967-71 he studied under the guidance of the painter Angiolo Mantovanelli. Since 1972 he has travelled widely and lived for long periods in Sweden, Poland, Germany and Norway where he met with numerous contemporary artists. His artistic production is deeply influenced by Northern European culture. Since 1986 he has lived and worked in Rome, Italy. Private collections of his work exist in Italy, Sweden, Norway, Denmark, Germany, Poland and USA.
Giancarlo Flati has painted over 100 portraits.
Winner of the Prize Michetti Museum 2005 (MUMI2005).
The actual artistic research of Giancarlo Flati is dedicated to creative consciousness and to the exploration of the "invisible holomovement" of the Bohm's "Wholeness and Implicated Order".
In 2016 won the cover competition for the July/August issue of the magazine Art & Beyond.
In 2017  Triennial Exhibition of Visual Arts in Rome, Complex of Vittoriano, Ala Brasini.
In 2017 he has been invited from the Art Historian Earl Daniele Radini Tedeschi as a member of El Circulo Magico at the 57. International Art Exibition –La Biennale di Venezia. National Pavillion of Guatemala.
​On the occasion of this event he has exhibited his works "I the tree of the edges" and the artist's book "From the silence of leaves".
In 2020 he founds a new artistic movement focused on promotion of a New Renaissance based on MABITS (Marginal Art Bits) rooted in extreme domains of Art Technology and Science. The Fundamentals of the Movement have been outlined in the assay "The tree of Mabits. Manifesto for a new Artistic and Human Renaissance in the coming Age of ASI Clouds (Artificial Superintelligent Clouds)".
Personal exhibitions
1989 
Galleria La Madia - L'Aquila
1994
Forte Spagnolo - L'Aquila
1995
Castello Piccolomini - Celano (AQ)
Museo Casa D'Annunzio - Pescara
2002
Rappresentazione poetico-musicale Geotecnica in love
Congresso nazionale di geotecnica - L'Aquila*
2003
XIII European Conference on Geotecnical Engineering - Praga*
Facoltà di Ingegneria - Università degli studi dell'Aquila - L'Aquila
Adagio transumante - Castello di Navelli - L'Aquila*
2004
Frammenti di cieli e di paesi - Museo Casa D'Annunzio - Pescara
Adagio Transumante - Sala Celestiniana - L'Aquila*
2005
Tempo di ritorno - Castello Orsini Colonna - Avezzano*
Tempo di ritorno II - Anfiteatro Facoltà di Ingegneria di Roio - L'Aquila*
2006
Profondo invisibile - Teatro Sirena - Francavilla
Spazi invisibili - Casa della cultura - Danzica - Polonia
Sequenze dell'invisibile - Café Art Galery - Krzywy Dom - Sopot - Polonia
Sequenze dell'invisibile - Café Art Galery - C.K. Browar - Cracovia - Polonia
Sequenze dell'invisibile - Café Art Galery - Galleria "Il collezionista" - Roma
2007
Tempo mobile dell'Eternità, LE VENEZIE, Villa Letizia - Treviso
Frammenti di futuro, Galleria ARTtime - Udine
Tempo indiviso - Rocca dei Rettori - Benevento
Nuclei di futuro - Thuillier Galerie - Parigi
2008
"Dalla laguna al Salento" - Metropolitan Art Gallery / Associazione Culturale "La Chimera" - Lecce
"Intersezioni del Tempo" - Antico refettorio del Museo Nazionale del Palazzo Venezia (3-28 Settembre) - Roma
2012
"Dai Qbits ai nodi del Tempo?" - Istituto Italiano di Cultura di Monaco (29 Febbraio-31 Marzo) - Germania
Recent thematic group exhibitions
2007
La lingua dell'arte nell'anno 2007 - Risorgimento ieri, Risorgimento oggi, unificazione e identità - 16 Giugno-28 Settembre 2007 - Le Venezie - Treviso
2008
Paolina ha 200 anni - 8 Marzo-6 Aprile 2008 - Le Venezie - Treviso
Paolina ha 200 anni - 1 Giugno-31 Agosto 2008 - Museo Gipsoteca Libero Andreotti - Pescia - Pistoia
2010
Paesaggio - Galleria ART&Media - 23 Gennaio-27 Febbraio - Castelfranco - Veneto
Centro Porta Dieda - 3-27 Marzo - Bassano del Grappa Barco Mocenigo - 3-18 Aprile - Treviso Villa Benzi Zecchini - 6-27 Novembre - Treviso
Arte in passerella - Villa Malfitano Whitaker - Palermo
2012
Castello di Roncade - 12 maggio / 10 giugno 2012 - Roncade (Treviso)
Istituto Italiano di Cultura - 29 febbraio / 31 marzo 2012 - Monaco di Baviera (Germania)
"Dai QBits ai nodi del tempo?" - Sala esposizioni - 15 Luglio / 10 Agosto 2012 - Auronzo di Candore (Belluno)
Flati has illustrated the following books
1990
Na gulia de bbiangu di Elio Peretti. Editori del Grifo - Siena
1994
Canto di fine giorno di Elio Peretti, Graphic Press - L'Aquila
Il colore delle parole di Flati / Peretti, Graphic Press - L'Aquila
2001
In Memoria di Elio Peretti, Graphic Press - L'Aquila
2002
Nel pensier mi fingo di Elio Peretti, Ed.Colacchi
2004
Frammenti di cieli e di paesi Grafica Animobono - Roma
2007
Monografia "Giancarlo Flati" a cura di Luigina Bortolatto, Zanotto Editore Eurocrom Libri, Collana Esmeralda
2008
Tratturi e transumanza arte e cultura Archh Edizioni - Deltaensemble
Ha illustrato manifesti, copertine di libri ed articoli scientifici pubblicati su riviste mediche nazionali ed internazionali (Journal of Urology, Pancreas, Pancreatology , Chirurgia, La Clinica Terapeutica, Japanese Journal of Surgery, Fertility and Sterility etc.)
E' presente in Collezioni pubbliche e private in Italia, Svezia, Norvegia, Danimarca, Germania, Polonia, Spagna, USA, Australia.
Bibliography and Reviews
Giancarlo Flati. Catalogo dell'Arte Moderna Mondadori n.42 - 2006
Giancarlo Flati, arte alla ricerca di nuovi linguaggi. Redazione di ARTFAQ - Il giornale dell'arte - 2006
Visibile ed invisibile si incontrano a Treviso. 50&Più, n.5 - 2007
Giancarlo Flati. Catalogo dell'Arte Moderna Mondatori n.43 - 2007
"Giancarlo Flati" - testi di Luigina Bortolatto, Zanotto Editore, Collana Esmeralda, Vol IV - 2007
Tempo mobile dell'Eternità - mostra pittorica di Giancarlo Flati - 2007 (www.abcveneto.com)
Il dinamismo rappresentativo di Giancarlo Flati, di Simone Fappanni - 2007 (www.arteimmagini.it)
La mostra di Giancarlo Flati alla Rocca dei Rettori - 2007 (www.ilquaderno.it)
Giancarlo Flati - tempo mobile dell'eternità - Pianeta Arte - Catalogo Internazionale dell'Arte - 2007
Sequenze dell'invisibile di Giancarlo Flati, Renato Minore 50&Più, n.12 - 2007
L'invisibile coniugato da Giancarlo Flati, testo di Katiusha Minicozzi e intervista di Roberto Russo. Art & Art Editrice Acca - Agosto/Settembre 2007
Giancarlo Flati Avanguardie Artistiche - 2008: 1052-1053
Giancarlo Flati: I fantasmi del reale e la "realtà" del virtuale, di Angelo Centonze. EuroArte, Anno X - n.5:37
Giancarlo Flati: "Poeta Cosmico", testo di Luigina Bortolatto. Euroarte XI - 3:35 - 2008
Giancarlo Flati. Catalogo dell'Arte Moderna Mondatori n.44 - 2008
Giancarlo Flati. Catalogo dell'Arte Moderna Mondatori n.45 - 2009
Giancarlo Flati. Catalogo dell'Arte Moderna Mondatori n.46 - 2010
Grandi Maestri - Centro Diffusione d'Arte - 2010
Giancarlo Flati. Catalogo dell'Arte Moderna Mondatori n.47 - 2011
Giancarlo Flati. Catalogo dell'Arte Moderna Mondatori n.48 - 2012
Giancarlo Flati. International Contemporary Masters Vol VI - World Wide Art Books Inc. - California - 2012
Giancarlo Flati. OverArt - Periodico bimestrale d'arte e cultura. N.6 - Nov/Dic 2012
Giancarlo Flati. Catalogo I Biennale Internazionale d'Arte di Palermo - 2012
Giancarlo Flati: Il segreto del pendolo di Bentov - Aracne Editrice - 2013 - Vai alla scheda del libro
International Contemporary Artists Vol VI - ICA Publishing - New York - 2012
I segnalati 2013 da Salvatore Russo - EA Editore - Palermo - 2013
ATIM'S TOP 60 MASTERS OF CONTEMPORARY ART 2013 - ArtTour International Publications - New York - 2013
Attimi di silenzio - Fondazione Mario Luzi Editore - 2015
On the edges of creative mind / Ai margini della mente creativa - Società Editrice Universo SEU - 2017 (Prefazione del Conte Daniele Radini Tedeschi; scritto in occasione della 57. Esposizione Internazionale d'arte La Biennale di Venezia, Padiglione Nazionale Guatemala)
The following critics have been writing about his painting activity:
Giorgio Agnisola, Vito Apuleo, Liliana Biondi, Luigina Bortolatto, Angelo Centonze, Sandro Dell'Orco, Rosa Grazia Finelli, Zenon Grocholewski, Luciano Luisi, Dino Marasà, Roland Maszka, Katiusha Minicozzi, Renato Minore, Gioia Mori, Elio Peretti, Roberto Russo, Alida Maria Sessa, Claudio Strinati, Duccio Trombadori, Giuseppe Benelli, Daniele Radini Tedeschi. VIEW CRITICS